This guide is a pathfinder to resources on Russian language and culture at UC. To navigate, use the tabs above. Scroll down to browse new titles.
Quick links:
Selected online reference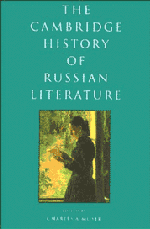 The Cambridge history of Russian literature
Publication Date: Rev. ed. Cambridge University Press, 1992
Soviet animation and the thaw of the 1960s : not only for children
Call Number: NC 1766 .S65 .P66 2012
Publication Date: Indiana University Press, c2012
Soviet Animation and the Thaw of the 1960s examines the remarkable animation that emerged during the post-Stalin period of liberalization in the Soviet Union as an avenue of expression for a new spirit of aesthetic freedom. Drawing on extensive archival research, Laura Pontieri reconstructs the dynamics inside Soviet animation studios and the relationships between the animators and the political establishment. Pontieri offers a meticulous study of Soviet animated films of the period, using the world of Soviet animation as a lens for viewing the historical moment of the thaw from a fresh and less conventional point of view. (11 Nov)
Contents of current journal issue (RSS feed):
Loading...
Max Podstolski
Contact Info
Library Research & Information Services, Central Library, Level 5 ext. 8750
Hours: 8am-4pm Mon-Thurs, 8am-11.45am Fri.
Send Email