This guide is a pathfinder to resources on Russian language and culture at UC. To navigate, use the tabs above. Scroll down to browse new titles.
Quick links: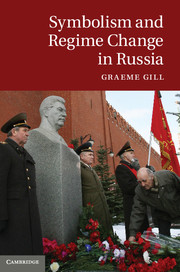 Symbolism and regime change in Russia
Call Number: ebook
Publication Date: Cambridge University Press, 2012
During the Soviet period, political symbolism developed into a coherent narrative that underpinned Soviet political development. Following the collapse of the Soviet regime and its widespread rejection by the Russian people, a new form of narrative was needed, one which both explained the state of existing society and gave a sense of its direction.

By examining the imagery contained in presidential addresses, the political system, the public sphere and the urban development of Moscow, Graeme Gill shows how no single coherent symbolic programme has emerged to replace that of the Soviet period.

Laying particular emphasis on the Soviet legacy, and especially on the figure of Stalin, 'Symbolism and Regime Change in Russia' explains why it has been so difficult to generate a new set of symbols which could constitute a coherent narrative for the new Russia. (2 Apr)
New titles - Russian & related
Contents of current journal issue (RSS feed):
Loading...
Max Podstolski
Contact Info
Library Research & Information Services, Central Library, Level 5 ext. 8750
Normal hours: 8am-4pm Mon-Thurs, 8am-11.45am Fri.
Send Email
Selected online reference