These instructions are designed to be used with recent versions of MS Word. Please note there is no template or specific formatting guidelines for a thesis at UC. Please talk to your supervisor and take a look at theses in the UC Research Repository to see how they are usually formatted.
The following instructions are also available as a PDF:
Toggle show Home ->Show/Hide formatting
Select major headings one at a time and choose Home ->Styles 'Heading 1'
Select subheadings and apply Home ->Styles 'heading 2' and 'heading 3'
Modify a style by right clicking on it and choosing Modify in the styles pane at the top of the screen.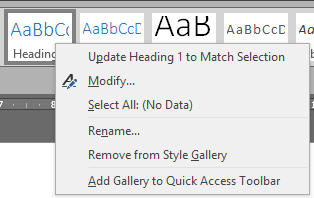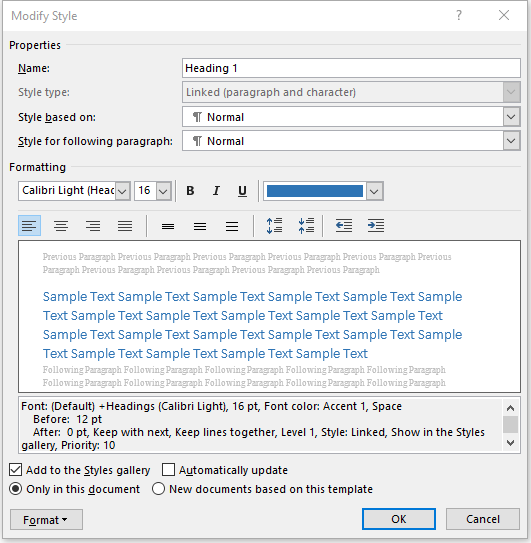 View->check Navigation Pane
References -> Table of Contents -> Custom Table of Contents (no heading in table)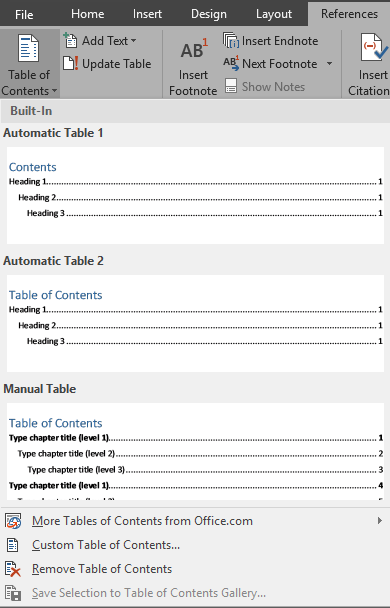 Right click table of contents to 'update field' and choose 'update entire table'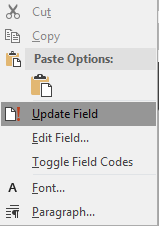 NOTE: the table of contents does not automatically update when you make changes.
Home->Multilevel list-> choose style with a number level for each heading level
To change the heading level 1 number to say 'Chapter 1' right click on heading level 1 in the styles area Heading 1->Modify.
In the modify screen click Format->Numbering.
Then click 'Define New Number Format'.
Then add the word 'Chapter' and a space before the '1'.
Right click figure or table and select Insert Caption
Choose Label type eg. Figure, Table etc
Choose position above or below
Give the table or figure a title in the top box
Click OK
Go to the headings for List of Figures and List of tables and then click References->Insert Table of Figures-> select caption label type (Figure or Table)

On the following menu select caption label type (Figure or Table) and click OK
This can be used to have different numbering styles of different sections of your document or to have certain pages landscape to display a large table or graph.
Insert a section break (next page) at the end of the title page (Layout -> Breaks -> Next Page)
Insert a section break at chapter 1 (Layout -> Breaks -> Next Page)
Insert page breaks for all other 'heading 1' headings (Layout -> Breaks -> Page)
Insert -> Page Number and choose a position on the page
Double click on title page footer (bottom of the page) and tick 'Different First Page' in the Design ribbon that appears
Click in second page footer, right click on the page number and select 'format page numbers'
Select Roman numerals eg. 'i, ii, iii, iv' etc
Select start at 'i' (start at '1')
Scroll to chapter 1 and change number style for this section back to ordinary numbers and start at 1
Insert a section break before and after the pages you want to change to landscape orientation (See instructions above for inserting a section break)
Layout -> Orientation -> Landscape
NOTE: A section break is usually only needed if page orientation or separate page numbers are required.